Press Reviews on Art Laboratory Berlin
2017-18
2016
2015
2014
2013
2012
2011
2007-10

Press contact: Anne Schreiber
schreiber@artlaboratory-berlin.org
presse@artlaboratory-berlin.org
+49 157 3701 6651/ +49 173 621 63 47

Archive of Press releases and reviews: (click here)


Next Event:

NONHUMAN AGENTS - in retrospect
Documentation | Publication | Party





23 February, 2018 from 7-11PM

Art Laboratory Berlin cordially invites you to revisit our 2017 programme Nonhuman Agents in Art, Culture and Theory. We will present photo, video and text documentation of our 2017 series of workshops, talks and exhibition, as well as the three-day conference in November 2017.
Regine Rapp and Christian de Lutz will talk about the series and present the latest published brochures and the vivid press feedback in connection with the Nonhuman Agents series. Let us get together, exchange ideas and network.
More on Nonhuman Agents


Most recent exhibition:

Nonhuman Networks
Heather Barnett | Saša Spačal, Mirjan Švagelj & Anil Podgornik

Opening: 29 September, 2017 8PM
Press preview: 29 September 2017, 11AM (please register at: presse@artlaboratory-berlin.org)
Artist Talk with Heather Barnett and Saša Spačal: 30 September 2017 3pm
Interdisciplinary Conference. Nonhuman Agents in Art, Culture and Theory: 24-26 November, 2017
Exhibition runs: 30 September - 26 November, 2017
Fri -Sun 2-6PM and by appointment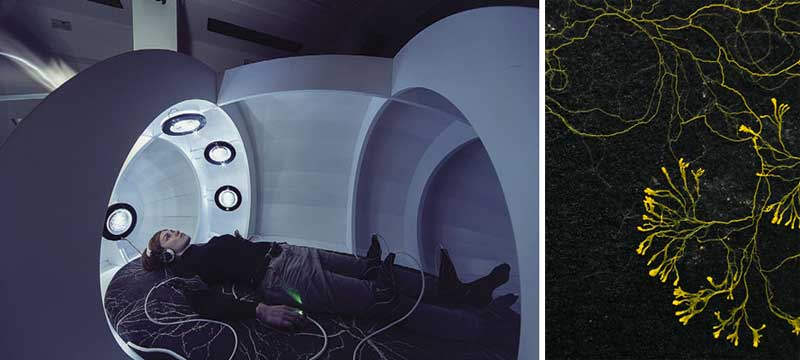 Left: Saša Spačal, Mirjan Švagelj and Anil Podgornik, Myconnect, Installation, 2014, Damjan Švarc / Kapelica gallery photo archive;
right Heather Barnett, The Physarum Experiments Study No. 022, Film still, 2016

Nonhuman Networks presents an aesthetics of new forms of communication between human and nonhuman actors. How does the world's largest single celled creature function as a computer? Can we tap into the so-called 'Internet of trees'? Performative works act as enablers for the audience to engage in non-linguistic forms of awareness and contact with several deceptively simple life forms.
Saša Spačal, Mirjan Švagelj and Anil Podgornik combine art, biology and cybernetics to create a platform for inter species communication. In Myconnect the nervous system of a person and fungal mycelium are plugged into a biofeedback loop. By entering the capsule a person is equipped with a heartbeat sensor, headphones and vibrational motors that are placed on various parts of the body. The heartbeat of a person sets the system in motion. The signal travels through the mycelium where it is modulated in real-time. The modulated signal is transferred back to the human body via sound, light and tactile sensory impulses. The overwhelming stimuli that affect the nervous system cause an alteration of the heartbeat. A new loop begins and the circle is closed. A symbiosis of signals begins.
Myconnect is a symbiotic interspecies connector that questions the anthropocentric nature/human division. With its circuit of signals and impulses, generated and translated by biological and technological organisms, Myconnect performs an immersive experience of symbiotic interdependence. Through this experience the technological nature/human distinction can be seen as an arbitrary definition that serves particular biopolitical interests in human society.
The collective has chosen to work with fungi, one of the world's dominant life forms. Mycelium, the hidden, subterranean portion of mushrooms, can grow to huge proportions; one organism in North America may be the world's largest living being. Recent studies show a strong interconnectedness between fungi and forest trees, the so-called 'Internet of trees' which forms vast symbiotic networks. Myconnect is an artistic experiment on social, aesthetic and biological levels, exploring new possible forms of interspecies communication beyond human language.
Heather Barnett is an artist, researcher and educator working with natural phenomena and biological design, often in collaboration with scientists, artists, participants and organisms. Utilising living materials and imaging technologies, her practice explores how we observe, represent and understand the world around us. Projects include microbial portraiture, systems modelling, and an ongoing 'collaboration' with an intelligent slime mould, Physarum polycephalum, one of the world's largest single-celled organisms.
What makes Physarum polycephalum particularly interesting, is its skilful ability to learn and solve problems from its interactions with the environment. Scientists in Japan and the UK have been studying Physarum polycephalum's ability for spatial computation (whilst foraging for food in the most efficient way). These studies mark an interesting turn in cybernetics, which is already strong influenced by biology Here an organism is studied as both a technological artefact and agent.
Based on years of empirical research and art-science collaboration, Barnett engages the slime mould in a process of negotiated co-creation, resulting in animated films, prints and living sculptures. She has also developed a series of interactive public workshops investigating Physarum polycephalum as material, model and metaphor through collective experimentation - Swarm | Cell | City - takes place 23/24 September as part of the Nonhuman Agents series, devised in collaboration with the Berlin based collective plan b. This exhibition builds upon her unique combination of interdisciplinary research and participatory practice.
(more information)

Regine Rapp & Christian de Lutz (Curators)

EVENTS
2-day-Workshop Swarm | Cell | City
With Heather Barnett and plan b (Sophia New & Daniel Belasco Rogers)
23 and 24 September, 2017
(More information)

Artist Talk with Heather Barnett and Saša Spacal: 30 September 2017 / 3pm
Interdisciplinary Conference Nonhuman Agents in Art, Culture and Theory
(In cooperation with European Media Studies, University Potsdam)
24 - 26 November, 2017


With the generous support of: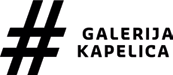 Media partner:




Cooperation partner:




Recent events:

Interdisciplinary Conference
Nonhuman Agents in Art, Culture and Theory
24-26 November, 2017

Art Laboratory Berlin
Prinzenallee 58, 13359 Berlin-Wedding (Across the street from the Art Laboratory Berlin exhibition space)






As a theoretical addition to our ongoing series Nonhuman Agents (June - December 2017) Art Laboratory Berlin - along with our partners, The Institute for Arts and Media, University of Potsdam - will bring together international artists, scholars, and scientists from different disciplines to discuss artistic, philosophical, ethical and scientific approaches to nonhuman agency. Previous positions from our Nonhuman Subjectivities series (2016-17) will also be included.

The conference will start with a reflection on post-anthropocentrism by redefining intelligence (human, animal and plant intelligence), agency and sentience. An in-depth consideration will include the role of fungi: mycelium, the Internet of trees and yeasts. Microbial agency will be explored via the phenomenon of quorum sensing and biofilms, proposing a micro-subjectivity. There will be contributions on the microbiome and holobiome, taking into consideration the human as nonhuman. We want to open up a discussion to endosymbiosis and sympoiesis, reflecting symbiotic relationships, horizontal gene transfer and the role of Lynn Margulis in 21st century Biology and Science and Technology Studies. Finally, the conference will discuss nonhuman perspectives under threat and proposes an ethology for the techno-scientific era.
(More information)
Abstracts and biografies as .pdf

Nonhuman Agents in Arts & Culture

Nonhuman Agents takes into account recent philosophical approaches which question anthropocentrism. These discourses emphasise non-human perspectives through object-oriented ontology (Harman and Meillasoux); discuss nonhuman / human encounters (Haraway); postulate a posthumanism (Braidotti); and examine various posthuman performative strategies such as intra-acting (Barad). A new 'de-centring' lets us draw our attention to a reality that can no longer be described in purely anthropocentric parameters.





Workshops & Lectures
Through workshops and lectures, four international artists, living in Berlin, invite the public to think about the non-human by means of selected artistic, performative and scientific methods. Mushrooms, mosses, lichens and bacterial processes, as well as Berlin wetlands, play a central role.

Alanna Lynch | Gut feelings
18 June, 2017

Margherita Pevere | Anatomy of an inter-connected system
15 July, 2017

Theresa Schubert | The forestal psyche
25 & 26 August, 2017

Sarah Hermanutz | ill-at-ease seep
28 October 2017

Presentation of Nonhuman Agents
14 September, 2017, 7-11 PM
15-17 September, 2017, 1-4PM
Results from the first three workshops as well as our upcoming Autumn programme will be presented at Art Laboratory Berlin during the Berlin Art Week (in cooperation with the Berlin Network of Independent Project Spaces and Initiatives and the Berlin Senate Department for Culture and Europe)

2-day-Workshop
Heather Barnett + plan b (Sophia New & Daniel Belasco Rogers) | Swarm | Cell | City
23 & 24 September, 2017

This 2-day workshop is a participatory experiment on art, performance and biology that precedes the exhibition Nonhuman Networks. The project invites the participants to view the city of Berlin by the nonhuman perspectives of the intelligent single-cell organism Physarum polycephalum and GPS tracking.

Exhibition
Nonhuman Networks
Heather Barnett| Saša Spačal with Mirjan Švagelj & Anil Podgornik
Opening: 29 September, 2017 8PM | Exhibition runs: 30 September - 26 November, 2017

The exhibition presents an aesthetics of new forms of communication between human and non-human actors. How does the world's largest single celled creature function as a computer? Can we tap into the so-called 'Internet of trees'? Performative works act as enablers for the audience to engage in non-linguistic forms of awareness and contact with several deceptively simple life forms.


Interdisciplinary Conference
Nonhuman Agents in Art, Culture and Theory
24-26 November, 2017

Finally, an interdisciplinary conference will bring together international artists, scholars, and natural scientists from different disciplines to discuss artistic, philosophical, ethical and scientific approaches to nonhuman agents. The previous positions from the Nonhuman Subjectivities series will also be taken into account.
Cooperation partners: European Media Studies, University Potsdam

More on Nonhuman Agents


With the generous support of





&nbsp&nbsp&nbsp &nbsp &nbsp &nbsp

Media partner:




Cooperation partner:




Sarah Hermanutz | ill-at-ease seep
28 October 2017, 19 Uhr




Photos: Sarah Hermanutz

In her lecture the artist Sarah Hermanutz will discuss the relationship between humans and wetlands, which is the focus in her long-term artistic research. Wetlands are one of the most biologically diverse and important ecosystems for life on earth, but within the past century mankind has destroyed over 50% of them. The artist will explore our historical and contemporary relationship with these environments, including the tropes and prejudices that have marginalised them and justified their continued draining and destruction. Engagement with the uncomfortable sensory and aesthetic experience of wetlands is proposed as essential to reintegrating humans within these ecological communities.

The western world associates wetlands with disease and decay, both physical and moral. Examples from art, literature, and popular culture show fear and horror of these liminal zones, and link them with corporeal "otherness" that is also mapped onto queerness, disability, alien/foreignness, and the 'monstrous-feminine'. These unruly bodies are suppressed and repressed both physically and culturally, for the sake of troubling and purist notions of cleanliness, health, stability, and optimised economically productive systems. Large-scale drainage projects have been considered great feats of human engineering, converting marginal 'wastelands' into clearly defined zones of water and land, useful for anthropocentric agricultural and urban utilization.

The audience will be asked to reconsider the urban ecology of Berlin, as a city built on top of river floodplains and former wetlands. The sights, sounds, textures, tastes and smells of this ecology have been formally exiled to the margins of Berlin, but they continue to seep through. This lecture is an invitation to materially and sensorially engage with wetlands, and their potential to unsettle our defensive boundaries between water/land, self/other, living/nonliving, and human/nonhuman.
(More information)


2-day-Workshop
Heather Barnett + plan b (Sophia New & Daniel Belasco Rogers) | Swarm | Cell | City
23 & 24 September, 2017 | 1-5PM





This 2-day workshop is a participatory experiment on art, performance and biology that precedes the exhibition Nonhuman Networks. The project invites the participants to view the city of Berlin by the nonhuman perspectives of the intelligent single-cell organism, the slime mould, Physarum polycephalum and GPS tracking.

The aim of Swarm | Cell | City is to create the conditions for critical and creative learning to take place, without trying to control the outcomes. The origins of the creative exploration will derive from self-organising principles in natural phenomena, for example using stigmergic processes. Using the historical and contemporary topography of Berlin as inspiration, we propose a series of experiments and activities, which explore collective communication, cooperation and urban navigation at different scales.
(More information)



Award for Art Laboratory Berlin

We are very pleased to announce that Art Laboratory Berlin has for the second time been awarded the "Prize for Berlin Project Spaces and Initiatives". We thank this year's jury and the Berlin Senate Department for Culture and Europe for this great honour.

We consider the award as a validation of our hard work over the last years with exhibitions, seminars, workshops and conferences on current topics in art & science. We are especially thankful to the artists we have worked with, as well as our colleagues and supporters, with whom we were and will be able to realise our projects.

Award ceremony 15 September 2017 from 5.30PM (More information)


Presentation of Nonhuman Agents




14 September, 2017, 7-11 PM
15-17 September, 2017, 1-4PM

Results from the first three workshops of the Nonhuman Agents series, as well as our upcoming Autumn programme will be presented at Art Laboratory Berlin during the Berlin Art Week (in cooperation with the Berlin Network of Independent Project Spaces and Initiatives and the Berlin Senate Department for Culture and Europe)

With the generous support of:



Media partner:




Cooperation partner:

Berlin Network of Independent Project Spaces and Initiatives


Theresa Schubert | The forestal psyche



Friday 25 August, 2017, 7-9PM (Lecture)
Saturday 26 August, 2017, 10AM-6PM (Workshop in Brandenburg)

The lecture and workshop are based on the artist's long-term artistic research project on living organisms as an artistic material and medium. For this project, Schubert dedicates herself to the potential of slime moulds, mosses and lichens from the forests around Berlin. Slime moulds are the largest known single-celled organisms and live from decaying matter on the forest floor. Certain mosses and lichens are natural remedies as well as indicators of good air quality. Apart from a scientific approach, forests have always been places of myths, legends and fantasies. How can you combine imagination and biotechnology in an artistic project? Can one "demystify" hard science by interpreting it creatively?
(More information)
With the generous support of the Berlin Senate Department for Culture and Europe


Lecture & Performative Workshop

Margherita Pevere | Anatomy of an inter-connected system

15 July 2017, 2-6PM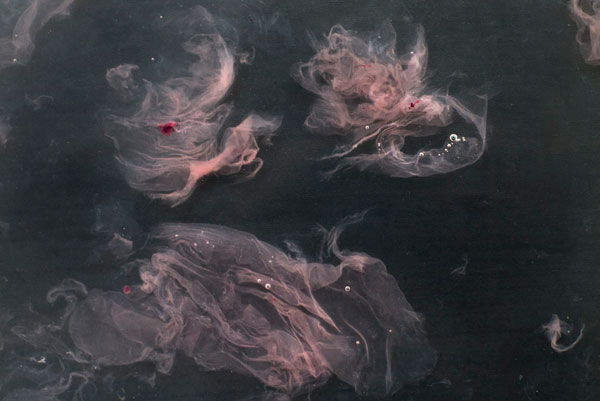 Growing cellulose (bacterial culture in liquid medium), Margherita Pevere, 2016. Photo: Margherita Pevere

Starting point of this seminar is the artist's research at the junction of visual arts, theoretical inquiry and investigation of biological processes. The seminar will focus on the discourses regarding human-nature relationship in the frame of today's environmental crisis and how artistic practices involving living organisms and technology can innovatively contribute to the debate. How can artists problematise the complex interconnection between humans and the biosphere in a hyper-technological era? With what kind of aesthetic and ethical implications? The project aims at engaging the audience in a performative discussion with a visual outcome.
(More information)

With the generous support of the Berlin Senate Department for Culture and Europe


Performative Lecture & Workshop

Alanna Lynch | Gut feelings

18 June, 2017, 2-6PM (in English)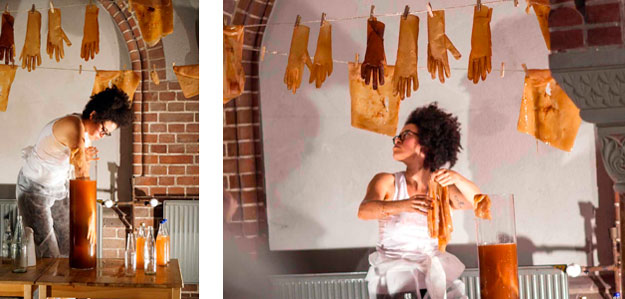 Photograph to the left: Matthias Reichelt/ Photograph to the right: Florian Denzin

As part of her ongoing research Alanna Lynch has been growing the microorganisms that produce kombucha tea. Through the process of fermentation this symbiotic colony of bacteria and yeasts (SCOBY) produces a cellulose material that is slimy and smells strongly while wet and can be dried and used as a textile. However, Lynch's interest in working with this life form goes beyond the material properties. Throughout this research Lynch has been actively consuming the microorganisms by drinking the tea. Given that about half of the cells in the human body are bacterial cells and acknowledging the microbiome-gut-brain axis whereby bacteria in the gut have been shown to effect the mind, how people think, feel and even behave, bacteria can be seen as radical in the potential it has to challenge categories such as subject/object, mind/body and human/non-human.
(More information)

With the generous support of the Berlin Senate Department for Culture and Europe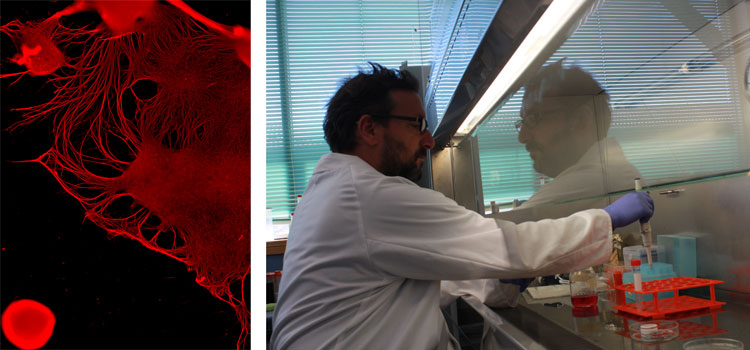 Artist Talk with Guy Ben-Ary
May 5, 2017, 8PM

Guy Ben-Ary is an artist and a researcher at Symbiotica (University of Western Australia, Perth) an artistic laboratory dedicated to the research, learning and hands-on engagement with the life sciences. Recognised internationally as a major artist and innovator working across science and media arts, Guy specialises in biotechnological artwork, which aims to enrich our understanding of what it means to be alive. Guy's work focuses on tissue engineering, microscopy and biological imaging. His research explores a number of fundamental themes that underpin the intersection of art and science; namely life and death, cybernetics, and artificial life. Much of Ben-Ary's work is inspired by science and nature. His artworks utilise motion and growth and biological data to investigate technological aspects of today's culture and the re-use of biological materials and technologies.
(More information)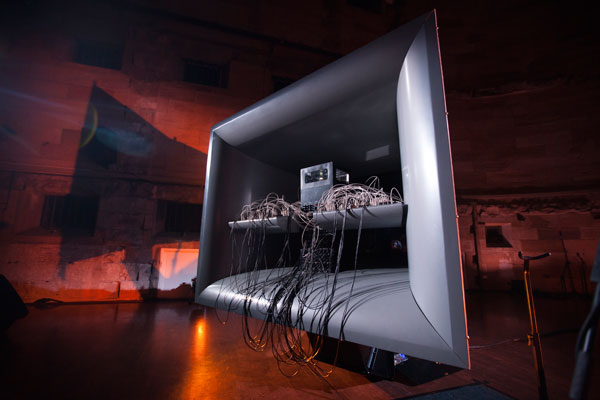 CellF, a neural synthesizer, will perform with Schneider TM (12 May) and Stine Janvin (13 May) as part of Technosphärenklänge #3 at HKW
12-13 May, 2017
The third edition of the Technosphärenklänge series, produced by the HKW in collaboration with CTM Festival, will present musical projects operating at the border of art and science. Three projects – the world's first neural synthesizer that performs with human musicians; water droplets levitated and shaped by sound waves; and the interconnection of spatial sound and high-energy lasers – make current notions of materiality tangible and fundamentally re-think the relationship between nature, technology and human consciousness. All three projects require intensive research and constant collaboration between the artists, natural scientists and technologists. The following day, lectures and talks hosted together with Art Laboratory Berlin will explain the research and science behind the performances, and discuss the works' social implications.
(More information)

A Projekt of HKW and CTM Festival in cooperation with Art Laboratory Berlin
Special thanks to the Max Delbrück Center for Molecular Medicine




Previous exhibitions and events: (click here)



Publications!

[macro]biologies & [micro]biologies. Art and the Biological Sublime in the 21st Century. Ed. by Regine Rapp & Christian de Lutz, Berlin 2015. More information
Press release as .pdf

Online Publication:
We are proud to share with you our online-publication of the international interdisciplinary 2-day SYNAESTHESIA-Conference, held by Art Laboratory Berlin in the summer 2013:
Synaesthesia. Discussing a Phenomenon in the Arts, Humanities and (Neuro-)Science