Next Event

MIND THE FUNGI
WALK & TALK #1

1) Briesetal | 27 October, 2018 (Day Excursion)
2) Lab excursion, TU Berlin | 29 October, 2018 (Evening)

Free entry | Registration necessary: register@artlaboratory-berlin.org





Art Laboratory Berlin invites you to the first public event of Mind the Fungi, a two-year collaborative project between the Technische Universität Berlin and Art Laboratory Berlin. Artist Theresa Schubert will offer diverse perspectives on the forest and its cultural meaning including a performance. Furthermore, together with biotechnologists from the Institute of Biotechnology | TU Berlin she will guide us through forests of Berlin and Brandenburg in search of tree mushrooms and lichens. Samples taken will form part of a two-year research project combining cutting edge biological research, citizen science and artistic research.
(More information)



Current exhibition

Strange Encounters with Vegetal Others
Špela Petrič




Opening 21 September 2018
22 September - 18 November 2018
Fri- Sun, 2-6 pm

Slovenian artist Špela Petrič approaches art production with a background in Hybrid Arts as well as a PhD in Biochemistry. These dual epistemological approaches inform her work with the Plant Kingdom as part of a multi-species collaboration exploring the ontologies, methodologies, ethics and practices of care involved in our relationship to the vegetal. Her first solo show in Berlin will give an insight into her multi-species endeavour.
(More information)

With the generous support of







Summer Programme

Last events:

BioSignals
25 August 2018
No registration, free entry



From Left: Juan Duarte, Photo: Andrew Gryf Paterson; Sarah Hermanutz & Nenad Popov, Live Decomposition, Photo courtesy of the artists; Laura Beloff, Photo: Andrew Gryf Paterson

BioSignals is a series of site-specific sound art, narrations and nature-based data streams by human and nonhuman cultural producers during Summer-Autumn 2018, culminating with a contribution to the next Pixelache Festival in Helsinki in Spring 2019. The artistic content of the project will focus on creative and actual interpretations of biosemiotics, energy as media and communication. Biosemiotics is an increasingly influential paradigm of thinking which brings together biology and communication, signs and signals of life in its myriad forms. In particular it offers conceptual tools to consider communications and environmental meaning-making from a non-human perspective, including plant and lichens, animal, bacterial, elemental interactors, via tactile, aural and signal-based biochemical means.

Featured artists will include Sarah Hermanutz and Nenad Popov who will perform their audiovisual work Live Decomposition as well as Pedro Soler and contributions by Andrew Gryf Paterson, Antye Greie-Ripatti, Juan Duarte, Krisjanis Rijnieks, Krista Dintere, Laura Beloff, Lilli Tölp and Mikko Lipiäinen.

More information


Produced in cooperation with




The BioSignals process is supported by Nordisk Kultur Kontakt Culture and Art programme.







Presentation | Performance

NOW. A Kinetic Life
Bidisha Das and Thomas Heidtmann

Friday, 3 August 2018, 8PM
Performance, 9pm

Sat, 4 August 2018
Open: 2 – 6pm

Sun, 5 August, 2018
Open: 2 – 6pm
Artists Talk with Bidisha Das & Thomas Heidtmann, 3pm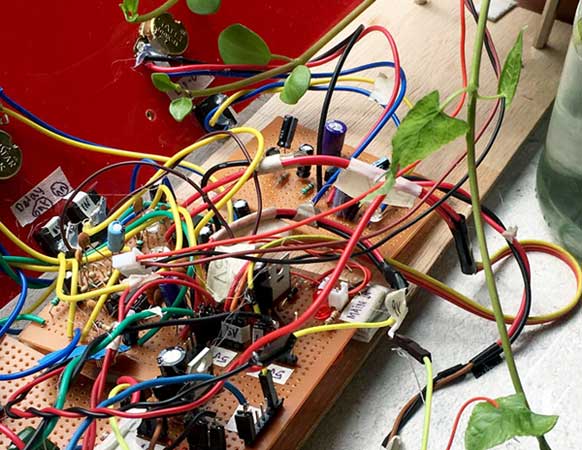 NOW – A Kinetic Life is an interactive installation that spans a visual and acoustic connection between outer space and physical spaces that surround us. It is an orchestra of movement using elements from outer space, nature and human bodies as instrumentations. It is an expression of the ever-changing moment we are living in: NOW. The installation brings in sounds from all these spaces in real-time to a modular synthesizer, the heart of the proposed installation, that Das has created exclusively for the project. The synthesizer is accompanied by CubeSat-like objects that are part of Heidtmann's "Place in Orbit" project, wearable gloves and plants with sensors.

The experience is like having multiple ears aimed at different directions and in various locations at the same time. The real-time data from the spaces and the output result are unique each time it is performed: Natural sounds and sounds from the universe, all merging together – life, that is thriving everywhere and binding us together to live in the moment, NOW.
More information

NOW. A Kinetic Life is made possible through the bangaloREsidency-Expanded programme by the Goethe-Institut / Max Mueller Bhavan Bangalore in collaboration with Lacuna Lab e.V.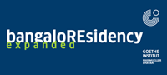 Workshop: (Un)Real Ecologies - Microplastics (with Kat Austen & Nana MacLean)
7/8 July, 2018



Photos courtesy Kat Austen

Plastic has pervaded water, soil and our bodies. It is the new icon of our time. During the (Un)Real Ecologies: Microplastics workshop we will explore the presence of microplastics in the Panke River, near Art Laboratory Berlin. How do organisms and microorganisms exist with and construct with these human-made materials? We will interrogate the water samples, to discover a new understanding of the reality of the Panke's ecosystem, with plastic present and wholly a part of it - a microcosm that allows us to ask: "what is nature?"

Kat Austen is a succession of experiences and an assemblage of aspirations. She creates artworks that explore multiple knowledges, from music to embodied knowledge to DIY science, focusing on emotional connections between what we consider internal and external. Kat is Cultural Fellow in Art and Science at the University of Leeds, lectures on UCL's Arts and Sciences BASc, and is Artist in Residence in UCL's Faculty of Maths and Physical Sciences. Previous residencies include NYU Shanghai Gallery and ArtOxygen. Kat was an inaugural member of the London Creative Network programme. She is based in Berlin.

Nana MacLean studied Biology at the UvA Amsterdam and has recently finished her Master studies in Molecular Biology at the University Potsdam. Besides her studies, she has been involved in projects that crossed borders between disciplinary styles and methods - embracing both speculative design and performative collaborations. As a PhD student, Nana is currently working on microbial communities in anthropogenic landscapes and plastic polluted grounds at the GFZ Helmholtz Center Potsdam. Her research focuses on Plastic as biological habitat, and furthermore explores future ecologies and areas of research that involve storytelling and other imaginative methodologies. Nana is based in Potsdam and Berlin.
(More information)

Organised together with DIY Hack the Panke.

Part of the Shared Habitats Project, organised by Institutio Media and funded by Nordic Culture Point:





Last exhibition:

Viscous Bodies
Sarah Hermanutz
Alanna Lynch
Opening: Friday, 23 March, 2018 / 8pm
24 March - 13 May, 2018
Fri - Sun, 2-6 pm and by appointment
Artist Talk with both artists: 25 March 2018 / 3pm



Documentation photographs, from left Alanna Lynch, Concealed and Contained; Potentials; Sarah Hermanutz, Salamander Mourning Veil, Inside Bodies

The project follows an open framework in showing the ongoing artistic research of two emerging artists in the field of art & science. Taking all things fluid as a starting point, the work of Sarah Hermanutz and Alanna Lynch covers themes such as amphibians, bodily borders, boundaries, marginalisation, materialism, seepage, sensory and wetlands through performance, installations, multimedia and living artworks. In addition to object and action, this project also invites the public to become engaged with the matter in manifold ways.
Alanna Lynch works with living organisms, biological materials and performance, examining the politics of affect and questions of agency. She explores the aesthetics of disgust and fear, with a focus on embodied knowledge and non-conscious forces. In her project Potentials Lynch cultivated colonies of fruit flies, Drosophila melanogaster, through their whole lifecycle, making use of microscopic photography and performative display, confronting the visitor with containers of flies in a research-like setting. This evoked reactions ranging from curiosity to disgust. Her performances often explore bodies and identity as something complex and indefinable; both made up of ever more dividable parts of matter. For the performance Concealed and Contained she collected her own hair over many years and crocheted it into an ever-growing container which now covers her head and shoulders. In performance she stands naked, except for the self-made form of concealment which she then works upon: crocheting a continual work-in-progress.
Sarah Hermanutz researches the intersections of performance, technology, and ecology. Her sculptures, installations and performances are preoccupied with wetlands, amphibious creatures, gender and social cognition. Live Decomposition, an ongoing collaboration with sound artist Nenad Popov, was performed last year in Lisbon and Berlin. Video documents Hermanutz's hands as they work through an aquarium filled with mud, sand, living and dead wetland organisms, and other collected material. The artist has a keen interest in amphibians - both as organism and as metaphor. In Inside Bodies an axolotl in a jar becomes a point for human/nonhuman contact. Her work Salamander Mourning Veil, which includes drawings, photographs and performance, is an artist statement on both the mass extinction of amphibians and the degradation of wetlands, a melancholy act of caring and empathy in the spirit of Haraway's 'staying with the trouble'.
The exhibition project examines the aesthetics of viscosity. The two artists will also collaborate on an installation, which will form an interconnecting system of liquids, living materials, organisms and technology and encompass the common themes of their work.
(More information)

-Regine Rapp & Christian de Lutz


Previous events:

Interdisciplinary Conference
Nonhuman Agents in Art, Culture and Theory
24-26 November, 2017

Prinzenallee 58, 13359 Berlin-Wedding (Across the street from the Art Laboratory Berlin exhibition space)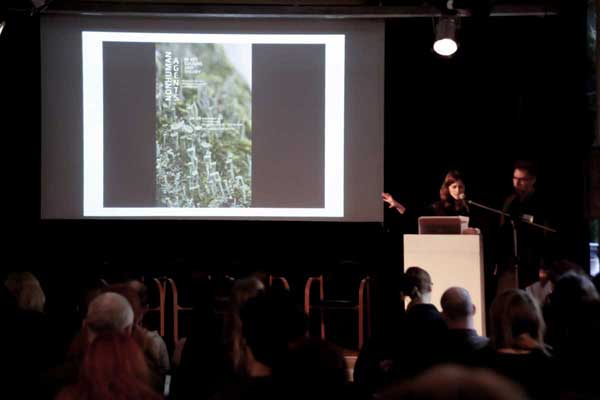 Photographs: Tim Deussen

As a theoretical addition to our ongoing series Nonhuman Agents (June - December 2017) Art Laboratory Berlin - along with our partners, The Institute for Arts and Media, University of Potsdam - has brought together international artists, scholars, and scientists from different disciplines to discuss artistic, philosophical, ethical and scientific approaches to nonhuman agency. Previous positions from our Nonhuman Subjectivities series (2016-17) were also be included.

The conference started with a reflection on post-anthropocentrism by redefining intelligence (human, animal and plant intelligence), agency and sentience. An in-depth consideration included the role of fungi: mycelium, the Internet of trees and yeasts. Microbial agency was explored via the phenomenon of quorum sensing and biofilms, proposing a micro-subjectivity. There were contributions on the microbiome and holobiome, taking into consideration the human as nonhuman. We sought to open up a discussion to endosymbiosis and sympoiesis, reflecting symbiotic relationships, horizontal gene transfer and the role of Lynn Margulis in 21st century Biology and Science and Technology Studies. Finally, the conference discussed nonhuman perspectives under threat and proposed an ethology for the techno-scientific era.
(More information - First video documentation online!)



Information on the Nonhuman Agents series from 2017 here

Information on the Nonhuman Subjectivities series from 2016-17 here

Information on the [macro]biologies & [micro]biologies series from 2014-15 here...


Publications!

We are glad to announce our new publication:
[macro]biologies & [micro]biologies. Art and the Biological Sublime in the 21st Century.
Ed. by Regine Rapp & Christian de Lutz, Berlin 2015
More information here...

Online publications:

We are proud to share with you our online-publication of the international interdisciplinary 3-day Conference from
24-26 November, 2017
Nonhuman Agents in Art, Culture and Theory

We are proud to share with you our online-publication of the international interdisciplinary 2-day SYNAESTHESIA-Conference, held by Art Laboratory Berlin in the summer 2013:
Synaesthesia. Discussing a Phenomenon in the Arts, Humanities and (Neuro-)Science